Employers Virtual Summit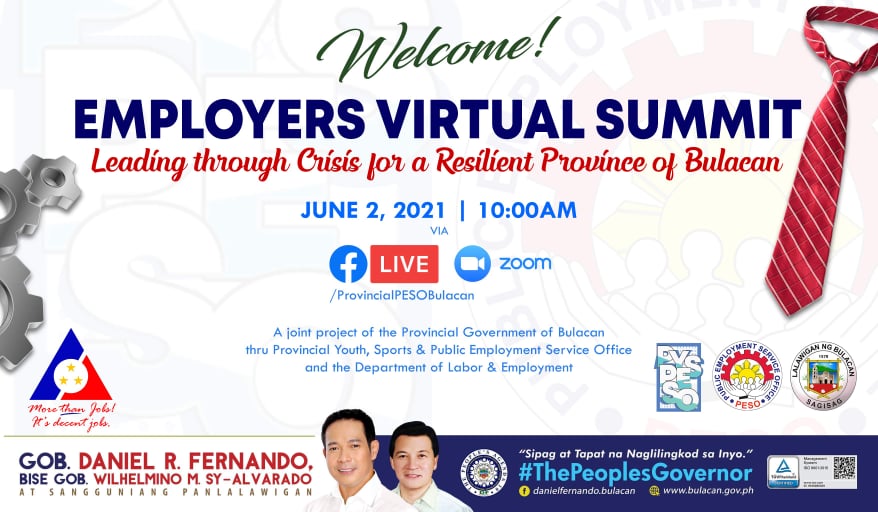 Welcome to Virtual Employers Summit: Leading through Crisis for a Resilient Province of Bulacan, made possible by the Provincial Government of Bulacan thru Provincial Public Employment Service Office in partnership with the Department of Labor & Employment.
This activity is part of Independence Day 2021 Virtual Career Expo dubbed "Kalayaan 2021: Diwa ng Kalayaan sa Pagkakaisa at Paghilom ng Bayan", to kick-off on June 2, 2021. This aims to discuss the importance of our private sectors in the reintegration initiatives for the affected employees and jobseekers of the province.
For interested companies who wish to join as one of our participating companies/agencies on the conduct of Virtual Career Expo (Local & Overseas Employment) on June 12, 2021, please register here: https://account.vantagehunt.com/register/employer.
***REMINDER: ALL COMPANIES/AGENCIES ARE ENCOURAGED TO JOIN THIS VIRTUAL EMPLOYERS SUMMIT EVEN IF YOU WILL NOT PARTICIPATE IN OUR VIRTUAL CAREER EXPO (LOCAL & OVERSEAS EMPLOYMENT) ON JUNE 12, 2021.